About Us
Mr Tee Thirty-Five Pvt. Ltd is a wholly Zimbabwean owned company established in 2009 to provide Mazda T35 service to corporate individuals and organizations with all their purchasing, mechanical, Spray painting, auto electrical and refurbishment related requirements of all T35 vehicles. The company has grown steadily from strength to strength and has become a one stop service provider leader in its feld. Its formation was in response to the growing demand for T35 vehicles in Zimbabwe. We endeavour to use our breath of experience, capabilities and strength to create unending value for our clients, employees, partners, shareholders and society as a whole. At Mr Tee Thirty-Five Pvt. Ltd, we place our customers at the center of our activities and our quest to satisfy their needs drives everything we do. We benefit from the diversity of our staff and our business by working together to achieve success. Our commitment to service is enhanced by our belief in selecting and offering reliable service of world-class standards. We are a dynamic organization that is constantly challenging conventional wisdom and developing new solutions to meet the requirements of our clients.
Mission Statement

Our mission statement is ever the less words that are synonymous with professionalism, competitiveness and customer service.
Professioinalism

We are a professional organization, as such we have the utmost professional approach to your requirements. We employ professional business ethics and have a professional team on board to enforce them.
Competitiveness

Competition is what we strive for because we offer competitive services that are accompanied by competitive prices.
Value Statement

At Mr Tee Thirty-Five Pvt. Ltd, we believe in reliability, fairness and honesty in all our dealings. We continuously strive for service excellence, which is underpinned by our commitment to total client satisfaction.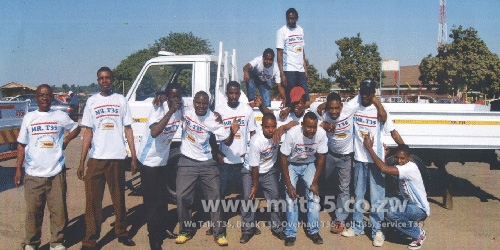 Company Management Team

Mr Tee Thirty-Five Pvt. Ltd has an ample organizational structure sustaining its efficient operations and service .

Martin Beula General Manager
- IMM, ACCA (UNISA)
-10 Years Experience

Willard Dube ( Workshop Supervisor)
-Class 1 Mechanic - Harare Poly
-8 Years Experience

Learnmore Bumhira (Supervisor)
-Spraypainter
Taurai Jani
- Welder
Nicholas Takavada
- Electrician
Bruce Banwell
- Upholstery, Streamfitter