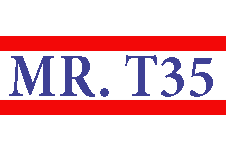 Service

Our customer service is second to none. We are definitely the pacemakers in the field. We also have a group of very motivated and courteous staff that is committed to dealing meticulously with your queries at any given time. We have no job that takes more than seven working days.
Services Offered

Among the very vast spectrum of services we offered, we also specialize in the following:- SERVICES IN: Engine Overhaul within 48hrs, Suspension within 48hrs, Auto electrics same day, Spray painting within 48hrs, Pannel beating within 7days, buying and selling. Our service staff is qualified and well trained to provide quality service and Mr Tee Thirty-Five Pvt. Ltd itself constantly keeps abreast of upgrades and improvement of these products.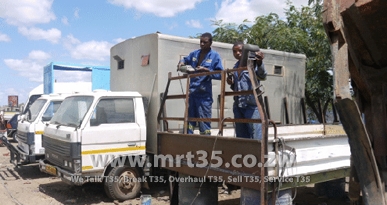 T35 Model truck 3.5 tones Light commercial vehicle has proven beyond reasonable doubt to be the work horse in all industrial, commercial and farming activities across the country. Our company is the only dedicated T35 assembling, construction and
refurbishing company that specializes in Mazda T35s. The trucks are always on high demand as the vehicle is a sanction resistant light commercial truck that was done by Zimbabweans for Zimbabwean terrain and economy.
We have entirely supported this Zimbabwean product by rebuilding over 400 Mazda T35s for the past 6 years. This has created over 40 permanent jobs both mechanical and technical at a most trying period within the Zimbabwean economy. We plan to grow our labor force two-fold within the next year, simultaneously increasing our production output to match the labor force and market demand. We pride ourselves in our own in house training policy which has created new opportunities for aspiring employees.
Corporate Identity

The company's edge over new entrants is that MR T35 also has a foot-up on the new entrepreneurs thanks to the trained manpower we use and continuously develop. Mr T35 Brand recognition can be identified by countless amounts of people around Zimbabwe thanks to the brilliant marketing of the T35 truck across the country.
Mr T35 associates itself with the community through sport namely boxing through WBC Charles Manyuchi Welter Weight Champion, football, Caps United football club sponsorship and Rugby, Mbare Rugby Academy which is development of talent at grassroots level and many more. Corporate social responsibility roles within the various communities.

We have entirely supported the nation with the most minimum resources by rebuilding more than 400 Mazda T35s for the past 6years.